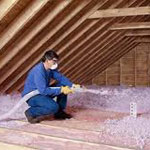 REASONS TO HAVE YOUR WALLS INSULATED OR RE-INSULATED WITH APPLEGATE R-FOAM:
Heating and cooling costs are expected to increase at an even faster rate than they have in the past. (You'll save money!)
You will be more comfortable.
You will enjoy a home that is quieter from outside noise.
It will be easier to sell your home with lower energy bills.
Save up to 35% in energy savings.
Financing Options Available (subject to credit approval)!!
TWO FACTORS THAT WILL DETERMINE THE EFFECTIVENESS OF THE INSULATION YOU INSTALL WILL DEPEND ON:
How effective the insulation will slow the flow of air into and out of your home.
How thoroughly the insulation is installed by your insulation contractor.
IMPORTANT CONSIDERATIONS:
Non-toxic
Safe and inert
Reduces Air Infiltration
Improves sound ratings
Lower water content, meaning less moisture in wall cavity
Formulated with chemical cross linkers, meaning less foam shrinkage
Contains 3 EPA Listed Antifungal Additives
Class 1 Fire Rating when tested at the code-mandated foam thickness of 4-inches nominal (3.5 inches actual)